News
See the latest information about the weldassistant.


01 October 2023

Version 9 is online -WINDOWS 11 Ready


ASME IX + AWS WELDER + OPERATOR Certificates

Multiple selection of welders and operators for renewal at once

Online renewal verification for 6 months / certificate renewal for

Printing of pre-configured welder / operator list for ISO / ASME / AWS

Colour code for better visualisation

Prints configurations completely modified

Filter options extended

Link to pdf file in the WPS list - This gives you direct access to the saved pdf file of your WPS from the WPS list

Furthermore, you can now also purchase a maintenance contract. For further information please see the order form.
---

September 2023
Visit us at the exhibition SCHWEISSEN & SCHNEIDEN in Essen, Germany
Hall 2, Stand No. 2D34 (SAFRA Stand)


---
December 2021
New Update available Version 8.2.10 24. December 2021
*** WPS ***
>Parameter "Process Type" (manual. automatic,....)
-edit parameter now
---
August 2021
The new weldassistant homepage is online !
Completely new and simple structure
Clear structures
All important information on one page
September 2020
WHAT IS NEW IN VERSION 8.2
ISO WPS - Update according ISO 15609-1:22019
The WPS printout has been fully updated to reflect the requirements of ISO 15609-1:2019 and the additional parameters.
WPS-Parameter added
- Backing
- Back gouging
- Throat thickness (a-Maß) - if fillet weld
- weld metal thickness - if groove/butt weld
- Type of welding (manual, machine,...)
- Wave controlled welding parameters (Mode, Job-no, additional info) for 141, 13x, 15
- Welding Machine Manufacturer and Type for all processes (ISO only)
- Postheating (soaking) / Postheating for hydrogen release
- Torch, electrode and/or wire angle
- Detailed oscillation parameters in layer added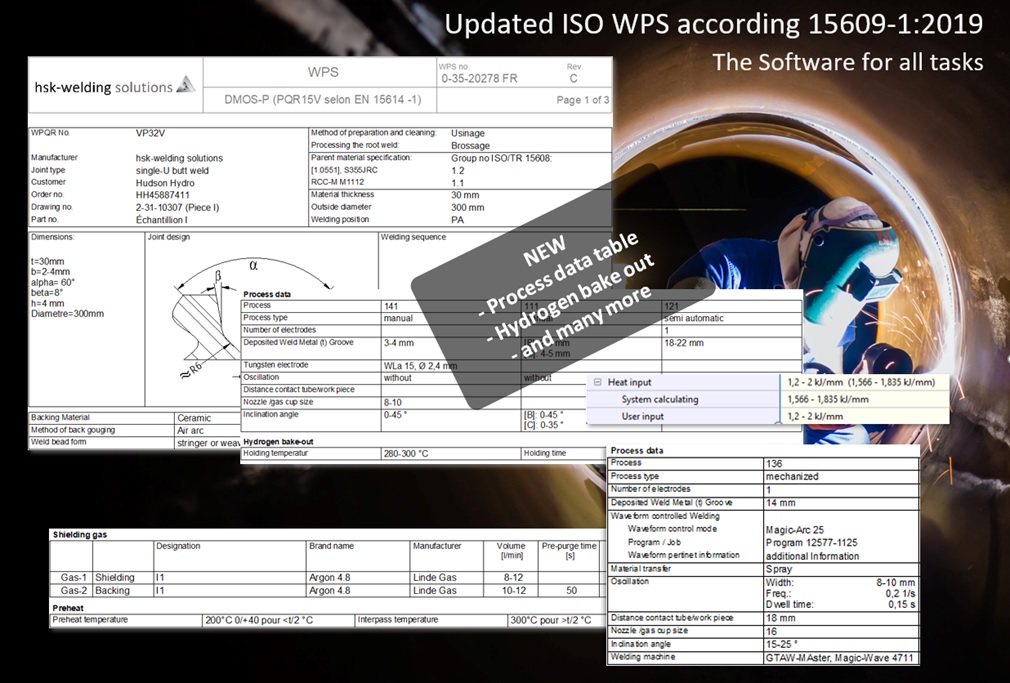 NEW PLUG-INS with expert system

---

The two Plug-Ins offer you aluminum and copper wires for MIG and TIG welding with expert system. After selecting the base material, you will be offered appropriate welding consumables.
Dezember 2018
THE NEW SMART Edition IN VERSION 8
Create a WPQR according to ISO 15614-1 Level 2 with all related documents
- WPQR form
- Welding test report
- Test results combined with photos or additional information
- Practical workshop record for documentation of the welding
- Additional page added to WPS, freely editable
- New languages Swedish and Dutch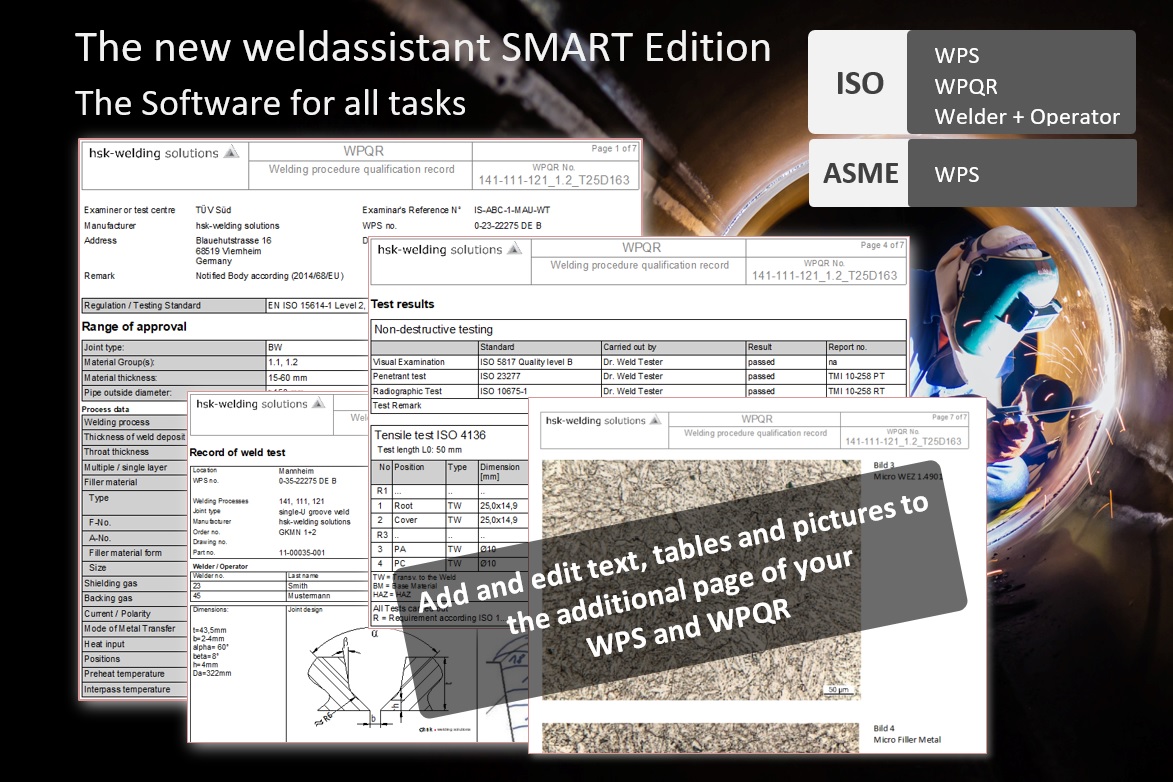 Februar 2017
NEW PLUG-INS
voestalpine Böhler Welding
voestalpine FONTARGEN Brazing
This is another step to extend the wide range of welding consumables to manufacturers operating AROUND THE WORLD. The Plug-Ins offers more than 800 welding consumables with the corresponding ISO and AWS designations assigned to the respective welding processes.
www.voestalpine.com/welding
2015
WORLDWIDE IN USE
The Palfinger Group uses the weldassistant in all production sites worldwide.

The weldassistant is used globally to manage welding know-how such as WPQRs, WPS and welder qualifications. The bilingual documents and ease of use are key factors.
PALFINGER AG stands for the most innovative, reliable and economical lifting solutions for use on commercial vehicles and in the maritime sector.
www.palfinger.com
2014
Long term partnership
INSTITUT DE SOUDURE and weldassistant - 10 years of cooperation
In November 2014, in Paris Nord 2, Villepente, was held again a presentation of the weldassistant and comparison of ISO and ASME WPS and WPQR with more than 120 participants from many different industries.
www.isgroupe.com